The euro was launched in a blaze of euphoria on 1st January, 1999. We take midday in Frankfurt as the natal moment. You can look at the euro's natal chart here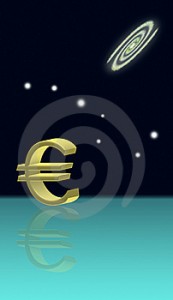 Appropriately for a currency, the ascendant Libra's ruler is Venus, a key indicator of wealth and prosperity. But Venus is in Capricorn, indicating that this wealth must be hard-won. Clearly the young currency has some painful growing up to do. The Sun too is in Capricorn, and Saturn – ruler of both Sun and Venus in this chart – is in Aries.
Saturn is the disciplinarian of the horoscope. Modulated through Aries, Saturn will be an enthusiastic but headstrong and impulsive teacher, without the patience and compassion that a young, vulnerable Capricorn currency needs to feel secure. Even more challenging is the opposition with Saturn's ruler Mars in Libra. This is ennervating, as the energy to gets things done is bogged down in endless Libran talks on the Saturnine themes of discipline and austerity.