Each autumn, Aljezur celebrates the sweet potato and its importance to the community by holding a Festival.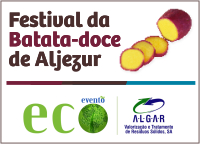 The 2011 event ran from Thursday to Sunday, from midday to midnight, except on the Sunday, when it closed at 9 pm. It takes place in the Espaço Multiusos, a vast, one hundred metre long metal shed set among steep wooded hills with views across the valley to the old town and castle.
Aljezur was founded in the tenth century by the Arabs, but in 1249 was taken by a band of knights of the Order of Santiago. They attacked the castle so suddenly that the moors had no time to defend themselves.