On 11th June, Onyria Golf Resorts opened Onyria Palmares Golf, a 27-hole course conceived by Robert Trent Jones Jr. and situated at Palmares in Lagos.
The works on the new golf course were initiated in January, 2009, and represent an investment of 10 million euros.
The inaugural event, a two day "shotgun" tournament, took place on 11th and 12th June. The first day was dedicated to tour operators and journalists, and the second day to corporate guests of Onyria Golf Resorts. Golfers were able to speak directly to the architect Robert Trent Jones Jr., who was present on both days of the event.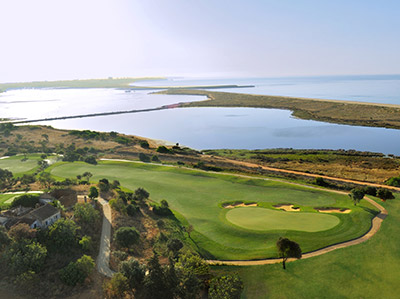 Attending the inauguration ceremony on 12th June were the President of Onyria Golf Resorts, José Carlos Pinto Coelho, the President of the Lagos Municipality, Júlio Barroso, the Secretary of State for Tourism, Bernardo Trindade, and the President of Portuguese Tourism, Luis Patrão, among others.
According to José Carlos Pinto Coelho, "the opening of Onyria Palmares Golf is the first step in the realization of a vision that will in time be complemented by hospitality and residential components".
Classified as a PIN (Project of National Interest), the project is "an important contribution to the Algarve, being at present the only 27-hole course in the region".
The new golf course is part of the Onyria Palmares Beach & Golf Resort, a project that will include a 5-star hotel with 172 rooms, and several different types of residential tourism units. The project also envisages a club house with panoramic views, a driving range, a beach club exclusive to residents and many sporting and leisure facilities, as well as a commercial area. The construction of the hotel will commence later this year and will be completed by summer 2013. In all, the project represents an investment of 300 million euros.
With its breathtaking scenery, Onyria Palmares Beach & Golf Resort benefits from a unique location with dazzling views over the Alvor estuary, Meia Praia beach and the bay of Lagos.
For the best 3-day, 4-day and 7-day deals on accommodation and golf in the Western Algarve, featuring the new Onyria Golf Resort, write to reservations@almaverde.com or call Kathy MacLauchlan on +(351) 282 697857.