1. Climate
3,000 hours of sunshine per year, cooling ocean breezes to moderate the summer heat, and seasonal rainfall all contribute to a great climate. No wonder Andalusians have been snapping up holiday homes in the area!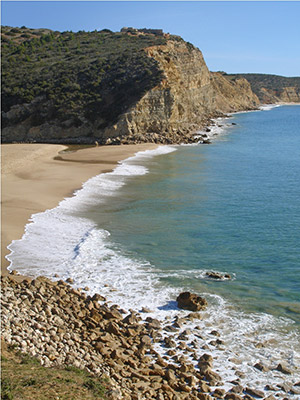 Boca de Rio Beach  
2. Accessibility
Faro is among the best-served warm weather destinations for cheap flights from UK and European cities. The 2h 30m flight time puts it within easy weekend reach. A modern, fast motorway network connects the Western Algarve to Faro, Seville, Lisbon and beyond.
3. Easy Getting Around
Traffic is light, congestion non-existent and parking easy.
4. People and Community
The local Portuguese are friendly, tolerant, welcoming, and most speak English. There is a sizeable expat community drawn from many European countries, with the British and Irish accounting for more than half. Brits have been settling in the Algarve for more than 30 years, and are well established and represented in local business and social structures. There is excellent, inexpensive, English language private education to GCSE level, a thriving Anglican church, plus Lions, Rotarians, an Anglo-Portuguese Chamber of Commerce and other bodies.
5. Environment
The air and water are clean and the countryside unspoilt, with a low population and lots of wide, open space. There is no industry or large-scale agriculture. A strict national planning regime preserves areas of special biological interest and protects from over-development. West of Lagos lies the Costa Vicentina Nature Park, with its 150 km of protected coastline, its dramatic cliff and rock formations, and some of the best beaches anywhere.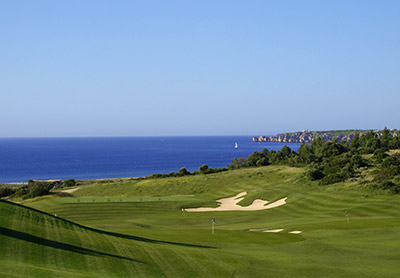 Palmares
6. Sports and Leisure Opportunities
The Algarve has 35 golf courses, including some of Europe's best. The Western Algarve includes the recently re-designed 27-hole Palmares course, with its links holes and magnificent ocean views, as well as Boavista, Parque da Floresta and the soon-to-be-opened course at Espiche.
As regards water sports, the west is the best for surfing, windsurfing, parasailing, sport fishing, yacht charters and sailing courses, with water-skiing, scuba diving and sport fishing also very well served.
There are great facilities for tennis, padel, squash, bowls, mountain biking, blo-karting and microlite flying. Many of the cliffs in the Sagres area are now marked out with climbing pitches.
The Kartódromo go-kart track at Portimão's Autódromo is among the world's premier karting venues, while the Autódromo itself is on the World Superbike Championship circuit.
The Sagres peninsula is a superb location for bird-watching, particularly during the seasonal migrations. Sagres is also at the western end of the Rota Vicentina, a walking trail that winds its way through 300 kilometres of the Algarve's most beautiful countryside.
Algarve theme parks include Slide 'n' Splash, Aqualand, Zoomarine and the Fiesa sand sculpture park. The zoo at Barão S. João is focused on conservation and protection, and is a model of modern practice, with beautiful habitats for its 120 species, as well as a petting zoo for children.
The Department of Tourism sponsors Allgarve, a year-round programme of world-class cultural and sporting events, while the municipal cultural centres host concerts, art exhibitions and other activities.
7. Food and Drink
One of Portugal's best-kept secrets is its gastronomy. Olives, figs, almonds, pine nuts, grapes and citrus, plus a wide range of seasonal produce including sweet potatoes, are all grown locally. Cheeses, particularly blended soft cheeses, cured hams, and the famous acorn-fed black pork from the Alentejo, are all excellent, as is the olive oil.
At the local fish markets you can find freshly caught Atlantic sea bass, stone bass and golden bream among other varieties, as well as oysters, mussels, clams, and a local delicacy perceves or goose barnacles.
The tradition of wine-making dates from ancient times, with Portugal even exporting to Rome during the Roman occupation. Best known for port, which is produced by a unique vinification method in the unique micro-climate of the Douro valley, Portugal actually possesses a wide array of native varietals and distinct regions, resulting in an abundant variety of excellent wines.
Modern techniques and equipment have transformed Algarve wine production, so that there are now some very good local boutique vineyards, such as Quinta do Barranco Longo in Algoz.
8. Reasonable Cost of Living
While the cheaper pound makes Portugal more expensive for Brits, it is still one of Europe's lower-cost destinations. Property prices in the Western Algarve compare favourably to Spain and, while petrol and utility prices are relatively high, wages in Portugal are much lower than in Northern Europe. This means that basic living costs such as property ownership taxes, public transport and health are low, with services generally cheaper than in Northern Europe. Locally produced food and drink, beer, wines, spirits and cigarettes are also inexpensive.
It is worth noting that there is a favourable tax regime applicable to foreigners taking up residence in Portugal after 1st January 2010. Portuguese-sourced income from "high value-added activities" is subject to a low tax rate ceiling, while foreign-sourced income is not taxed in Portugal if it has already been taxed under an applicable double-taxation treaty.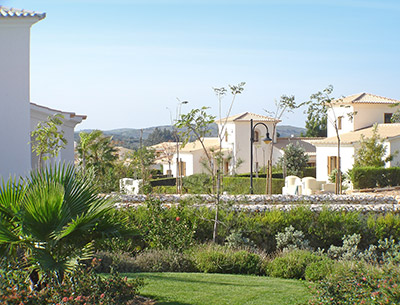 AlmaVerde Villas
9. Stable Political, Economic and Business Environment
Portugal joined the European Union in 1986 and has been part of the eurozone since its inception. As one of the poorer EU nations, Portugal has been the recipient of European structural funds to improve infrastructures. modernise industry and make businesses more competitive. The much lower interest rates under eurozone membership have stimulated home ownership and the economy generally, up until the current eurozone crisis.
Although bureaucracy is still an issue, there has been a gradual shift to easier, more transparent processes, and a marked reduction in tax evasion, corruption and fraud.
10. Good Health Services
The free national health service does a very good job of dealing with acute and emergency conditions, as well as routinely recurring procedures such as vaccinations. Waiting lists for non-emergency surgical procedures are limited to six months, or one year, depending upon the procedure. The cost of prescription medicines is subsidised and tax-deductible. The national health service is complemented by a network of private practices and hospitals, which are relatively Inexpensive. Private health insurance is also reasonably priced. Both dental and vetinary care are of a high standard and very reasonably priced.
The Algarve appeals to:
Hikers, ramblers, bikers, scramblers, musicians, artists, writers, sailors, fishermen, surfers, beach bums, yogis, mystics, sufis, tantrists, naturists, pacifists, peaceniks, beatniks, escapists, hippies, tree-huggers, environmentalists, twitchers, witches, sovereign citizens
The Algarve may not appeal to:
Blingers, mingers, clubbers, city slickers, urban farmers, culturatis, fashion victims, high heel wearers, gangstas, couch monkeys, sofa spuds, mall rats, agoraphobics, tie guys, fundamentalists, hard-liners, neo-cons