According to a resolution of the Portuguese Council of Ministers approved today 9th September, toll booths are to be installed on the A22 (Via do Infante) motorway, to become operational on 15th April, 2011.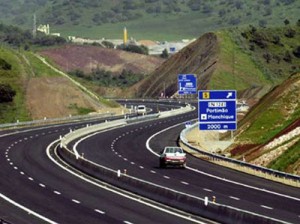 According to the resolution, motorways currently designated SCUT (without costs for the user) in the areas of the North Coastal, Greater Porto and Silver Coast areas will become toll roads from 15th October, 2010. All other SCUT motorways, including those in the North Interior, Beira and Algarve, will become toll paying from 15th April, 2011.
The resolution also creates a system of exemptions and discounts for residents of local council areas close to the affected roads, as well as companies based in those areas. Qualifying drivers will receive an exemption for the first 10 uses per month, as well as a discount of 15% on subsequent uses.
In the North Coastal, Greater Porto and Silver Coast areas, the system of exemptions and discounts will apply to residents that live in, and to companies whose principal office is in, a council area of which a part is within 10 km of the motorway. In the remaining areas, the corresponding distance is 20 km.
The system of exemptions and discounts will apply at least until 1st July, 2012. Thereafter, they will continue to apply in regions where the per capita GDP is less than 80% of the national average.
Due to a thriving tourism sector, the Algarve's per capita GDP is typically at or above the national average, so, as far as the A22 is concerned, these limited exemptions and discounts will only apply for the first fourteen and a half months following the introduction of the tolls.
This is in contrast to the impression given on 30th July by the Assistant Secretary of State for Public Works and Telecommunications Paulo Campos, when he said that tolls on the A22 were likely to be introduced before the completion of the works currently in progress to improve the EN125, but that there would be an exemption for those that live and work in the Algarve.
It is unclear whether the complete scheme of EN125 improvements will be completed by 1st July, 2012, the date on which the exemptions are likely to be withdrawn.