Increasingly buying a property overseas for environmental reasons is becoming the norm and that's exactly what the Keet family did when purchasing their four-bedroom home in AlmaVerde, Western Algarve.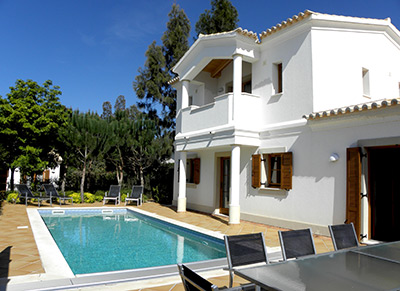 AlmaVerde Village and Spa is a member of an invitation-only membership organisation called Sustain Worldwide, whose member developers and professionals are creating many of the world's foremost sustainable luxury homes, resorts and communities.
Phil and Jane Keet, both aged 49, and their four children, Lucy (16), Sam (15), Emily (13) and Daisy (10) from Hythe, Kent, purchased a detached villa with private swimming pool for €450,000 (£390,000) as a long-term investment and somewhere for family and friends to enjoy.
Phil Keet says: "The environmental reasons played a huge part of the decision process. The development has been built with the eco system in mind as a haven of peace and sustainability. It boasts reduced energy consumption, the economical recycling of waste, the use of sustainable building materials and water conservation."
AlmaVerde's villa properties' eco credentials include adobe bricks which are made onsite, and the Coolhouse cooling and heating system, which reduces energy consumption by as much as 94 per cent over conventional air-conditioning and produces a pleasant all-year round temperature of 26C.
AlmaVerde is a luxury eco resort, located in Western Algarve, which was launched several years ago. Today, more than 80 individual villas, set in their own grounds, have been built and sold, and spa facilities opened onsite last year.
"The Western Algarve is one of the less developed parts of Portugal and is relatively unspoilt. We wanted somewhere peaceful away from city life," Phil adds. "The climate is good all year round. There is plenty to do in the surrounding area and the coastal/beach facilities are excellent."
The family purchased off-plan and found the buying process very straightforward. Phil says that prices are now about 25 per cent higher than when they bought. The family plans to use the property two or three times a year and when not in use will rent it out and depending on the season can expect weekly rates of up to €1,800 (£1,560).
Written by: A Place in the Sun Friday, May 13, 2011