1.       Do AlmaVerde villas have wi-fi?
A few villas have unlimited wi-fi access. There is also a wi-fi hotspot in and in front of the reception building, and an internet-connected PC available for use during reception opening hours. In addition, wi-fi routers and pay-as-you-go pens are available from reception against a refundable deposit. A router enables multiple devices – computers, mobile phones, games consoles – to enjoy simultaneous wireless access from the villa or any other location. You only pay for the time that the router is switched on.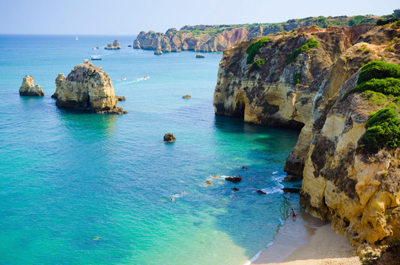 2.       Is a car necessary for a stay at AlmaVerde?
You can order groceries and rent mountain bikes from reception, but to get in and out of Lagos and Praia da Luz, and to visit all the beautiful, uncrowded beaches and other attractions of the local area, a rental car is strongly advised. If you are intending to use the A22 motorway from Faro airport, do make sure that the rental car company has installed transponders in its fleet so that the toll charges can be automatically debited from your credit card.
3.       Are the villas suitable for families?
AlmaVerde villas are ideal for families. Some villas can even accommodate two families to share, with four bedrooms, two on each side of an open plan living area. Kitchens are fully equipped. Pools are typically large and can optionally be heated. Some villas have safe, electrically-operated pool covers and enclosed garden play areas. A comprehensive range of baby equipment is also available, including cots, high chairs, stair gates and even playpens and potties.
4.       Are there any stairs to climb?
Villas are either one or two storeys. All two-storey villas have at least one large en suite bedroom on the ground floor. Some single-storey villas have two or three steps from the living to the dining and kitchen areas, and some have internal stairways leading to upper-level galleries or terraces. Some villas have steps down to pool and garden areas. Full accessibility details are included
in the detailed description for each villa.
5.       Are linen and towels provided in the villas?
Villas are comprehensively cleaned, beds made up and a set of clean towels provided for each guest ready for arrival. The standard cleaning regime for 7-day stays includes a mid-week towel change and for 14-day stays an additional end-of-week linen and towel change. Guests can do additional laundry themselves using the washer/dryer provided. Beach towels can be hired from reception.
6.       What facilities are at AlmaVerde?
The four floodlit synthetic grass tennis courts are the best in the area. The resident tennis pro offers coaching sessions and clinic for players of all ages and levels. Close to the courts is a mini football pitch and children's playground. The Wellness at AlmaVerde day spa offers a wide range of beauty treatments, podiatry, massages and complementary therapies including colonic hydrotherapy. The dance/fitness studio in the reception building is the venue for regular Zumba, Yoga, Nia Dance and other classes. Some walking trails are signposted and guided walks can be arranged. Mountain bikes are available for hire from reception, with maps of suggested routes provided.
7.        How close are the nearest shops to AlmaVerde?
Groceries can be ordered by phone from the nearest supermarkets at Budens, 3 km away, or at Praia da Luz, 5 km away. There is a ceramics shop within 1 km, a small number of shops in Burgau, 2 km away. Lagos at 10 km has a wide range of shops, a Saturday morning farmers' market and two fish markets, open most days. The nearest shopping mall is Aqua in Portimao, just off the EN125.
8.       Are there any bars or restaurants at AlmaVerde?
At the time of writing, there is no bar or restaurant on site. The nearest cafe is in the village of Barao S. Miguel, a short walk to the north of AlmaVerde. The nearest restaurants are at Almadena, 1 km east along the EN125. There is a wide choice of local restaurants in Burgau (2 km), Praia da Luz (5 km) and Lagos (10 km).
9.       Where are the nearest beaches to AlmaVerde?
AlmaVerde is an ideal base for exploring the vast Costa Vicentina Nature Park, with its 150 km of unspoilt coastline, encompassing the whole of the south coast west of Burgau, as well as the more rugged west coast right up to Sines. Within the Park are some of the most beautiful, uncrowded sandy beaches to be found anywhere in Europe.
The nearest beach is at Burgau (2 km). Going west from Burgau are the beaches of Cabanas Velhas and Boca do Rio, followed by Salema, at its heart a traditional fishing village, with a good choice of bars and restaurants. Continuing west are a number of isolated, sheltered sandy coves as far as Martinhal, just east of Sagres. Steady north-westerlies make Martinhal the windsurfers' favourite.
Or if surfing is more your style, then try the beaches of Cordoama or Castelejo behind Vila do Bispo, or venture further up the west coast to Praia do Amado, where there are a number of surfing schools. Just north of Carrapateira is the beach of Bordeira, at least 5 km long, and further north still, near to Aljezur, the wonderful beaches of Arrifana, Monte Clerigo and Amoreira. The shallow sandy estuary at Amoreira makes it perfect for young children.
If you like dinghy sailing, water skiing or a gentler breeze for windsurfing, then Praia da Luz (5 km) has all this and more, while some of the best beach bars can be found at Meia Praia, past the marina on the other side of Lagos.
10.   What else is there to do in the area?
Within 10 km of AlmaVerde are three 18-hole championship golf clubs – at Parque da Floresta (3 km), Espiche (4 km) and at Boa Vista. Beyond Lagos, at the far end of Meia Praia beach, is the stunning links course at Onyria Palmares. There are more great golf courses within 30 minutes' drive, including the two at Penina, the Pestana courses at Alto Club, Gramacho and Pinta, the Morgado course, and the Oceanico courses at Amendoeira.
Also within 10 km are Tiffany's Riding School, the Zoo at Barao S. Joao and the boat trips from Lagos Marina, ranging from fishing to dolphin watching to visiting the karst grottoes of the Ponte da Piedeade. Luxury sail and power boats can be chartered by the half day for an unforgettable coastal  boating experience.
At the autodrome near Mexilhoeira Grande is a word-class go-kart track. Other local activities include bowls, squash, diving, kite-surfing, parasailing, microlight flying, hot air ballooning and sky-diving.
Children love the Slide'n'Splash water park near Lagoa, as well as Zoomarine, with its entertaining presentations of seals, sea lions, dolphins and birds of prey, its aquarium and theme park rides. Zoomarine also offers a unique "Dolphin Emotions" swim-with-the=dolphins experience. Discounted tickets for these attractions are available at AlmaVerde reception.
Other sights to see in the area include dinosaur footprints, Neolithic menhirs, Roman ruins and Moorish castles at Silves and Aljezur.