With fishing in their blood and families to be fed, many Portuguese, including former commercial fishermen, take to beach or cliff fishing as ways to continue casting their bait in the hope of a tasty meal.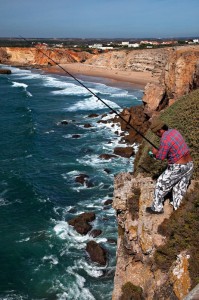 The waters off the Western Algarve, where warmer currents from the Mediterranean meet the colder Atlantic, are rich in sea life, with over two hundred species of fish to be found. Beach casting is mostly aimed at bass, but bream, mackerel, mullet and sole can also be reeled in. The fishing is better where the sea is deeper or choppier. The chance of a good catch also improved by using well-balanced, flexible equipment and the correct bait, which can include prawns, sardines, worms and pieces of mackerel. Also critical is a good understanding of the fish's feeding and swimming habits. Beginners can save much time and wasted effort by picking up tips from the more experienced locals.
Cliff fishing is a natural progression from beach casting. It gives easier access to deeper waters and to a wider range of catches, including grouper, jewfish, turbot, moray and conger eel. But it can also be dangerous. Dick Keely's photo shows why. At the spectacular Cape St. Vincent, the southwesterly tip of Europe, fishermen balance on cliff edges and climb down onto ledges high above sea level, sometimes gaining access to a preferred spot with the help of ropes tied to their cars parked at the cliff top. They carry cumbersome loads of bait and tackle, including food and drink for the long vigil.
The more exposed west coast beaches and cliffs generally offer better fishing than those on the south coast. Popular spots include the cliffs between Praia do Amado and Praia da Bordeira, and further north between Praia do Monte Clerigo and Praia da Amoreira.
If you are tempted to have a go yourself, do proceed with caution. Cliff tops are generally not protected by safety rails and every year fishermen lose their balance and fall, or are swept off rocks by high waves. In 2012 alone, there were five deaths and three serious injuries from cliff fishing in the Algarve, drowning being the most common cause of fatality.
You will also need a permit, which is available from any ATM. A one month touristic fishing licence for a particular area is only €3. You can be covered for three years for only €15. If you fish without a licence, you can be fined €500 or more. For the government FAQ, see here.