Portuguese property values have been static or falling for the past 6 years, but there is plenty of evidence to suggest that the cyclical downturn is coming to an end. Here are 10 reasons why the market is poised for recovery, and why now is the best time in 25 years to buy Algarve real estate: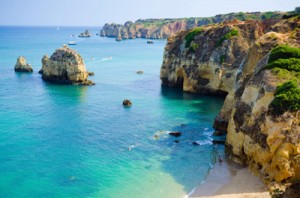 1.   Portuguese market bottoming out
There were already signs of market recovery towards the end of 2013. Collating results from 100 collaborators, SIR (Sistema de Informacao Residencial) reported an increase of 40% in sales volumes in the Lisbon Metropolitan area for the first 9 months of 2013 vs. 2012. The rate of increase for Porto was 18%.
The RICS/CI Portuguese Housing Market Survey for February 2014 reports a rise in new buyer enquiries for the seventh consecutive month. This has already led to a modest rise in sales. It is anticipated to result in continued sales growth across all three regions of Porto, Lisbon and the Algarve.
The survey also reports a continued slide in house prices, but with the pace of decline slowing significantly. After two years of visible price falls, the sustained improvement in both sales interest and volumes indicates that a floor is approaching, with buyers finally able to find deals at sufficiently attractive prices.
Banks are now moving back into the market for non-residential mortgages, with spreads coming off the recent and discouragingly high levels of 4.5% to 5% over EURIBOR. BPI, for example, is offering a spread of as low as 2.9% for sufficiently well qualified applicants.
There is plenty of anecdotal evidence to suggest that agents have been enjoying much higher sales enquiries and volumes, and that contractors who have survived the downturn are now increasingly busy.
2.   Portugal cheap vs. International norms
Property in Portugal is less than half the price of property in Spain, according to the Global Property Guide. The guide compares prices for similar apartments in the centre of most important city in each country, and concludes that, with an average price of €1,760 per square metre, Portuguese property is among the cheapest in Europe. Only Montenegro, Bulgaria, Macedonia and Moldova are cheaper.
Gross rental yields in Portugal, at 4.36%, are in the middle of the pack, comparable to Belgium, and slightly better than Spain.
Research by the OECD last year suggested property in Portugal was undervalued by 5 to 10% when price ratios for rents and wages were compared with the long-term average.
Portugal's market was estimated to be cheaper than any of the other bombed-out Mediterranean states. Spain was said to be as much as 20% too high.
Portugal is clearly an attractive cyclical bet, but large scale investment may be limited by lot size and available investment vehicles. Bill Gates and George Soros have both recently made €100m bets on construction recovery in Spain. Portuguese prices are lower, and the backlog of unsold properties is far smaller on any measure, which should result in an earlier market recovery in Portugal than in Spain.
3.   Sales interest booming on international portals
The Rightmove Overseas 2013 Consumer Survey reports an overall 30% increase in enquiries sent to agents vs. 2012.
The number of leads passed to Portuguese agents in January and February 2014 had already reached nearly 50% of the total sent in the whole of 2013.
70% of people searching on Rightmove Overseas are from the UK. 51% of searchers are looking for a second home and 36% are actually looking to emigrate. Portugal ranks a healthy 5th among destinations where people are looking to buy, and the Algarve is far and away the most popular region within Portugal.
4.   Sustained downturn translates to pent-up demand
With published prices falling as they were in 2012 and 2013, the majority of prospective buyers will have delayed purchasing decisions until clear signs of a market bottom or recovery are evident. The resulting pent-up demand is already translating into higher sales volumes and will help to trigger the forthcoming recovery.
5.   Demographic boom in demand
A retirement in the sun has long been a cherished dream among Northern Europeans. This dream was one of the major driving factors behind the last Algarve property boom that rapidly lost momentum in the wake of the 2008 fiscal crisis.
Now, the post-war baby-boom generation is approaching ever closer to retirement. Far more numerous than their elders, this generation tends to bid up the prices of whatever commodity it collectively demands. The population pyramid for the EU-27 shows the distribution of the population by five-year age groups in 1991 and in 2011. The target market of 45 – 64 year olds was 26.4% larger in 2011 than it was in 1991.
As of 2011, there were 27.4% more people in the 60 to 64 age group than in the 65 to 69 age group. Each younger 5-year group is larger than the previous, until reaching the largest group, the 40 to 45 year olds, those born between 1966 to 1971. These demographics presage a healthy increase in demand for leisure and retirement real estate.
 6.   Retiree demand fuelled by non-habitual residency tax regime
Visitors from high tax regimes in Northern Europe, including Sweden and France, have recently been arriving in the Algarve in ever greater numbers to rent or to buy property, attracted by the so called Non-Habitual Residency tax regime under which many new residents, especially retirees, can enjoy very favourable tax treatment.
 7.   Golden Visa demand
The introduction of the golden visa scheme in 2012 has already been responsible for more than €400m of Portuguese property sales. Attractions of the offer include the relatively low €500,000 investment threshold, an undemanding 7-day annual residency commitment and unfettered access to the entire Schengen area.
The volume of related property sales will continue to grow, as more and more affluent individuals and families from non-EU jurisdictions look to secure an escape route from potential political or economic uncertainty at home.
 8.   Limited supply
In the early 1990's, reacting to the undisciplined free-for-all that developed during the first Algarve real estate boom of the 1980's, the Portuguese government introduced a comprehensive centralised planning regime. At the top are the rules (PROT) governing the development of each major territory. These then guide and control the evolution of the master plans (PDM) for each municipality.
Nature Parks were created, sweeping measures were introduced to protect coastlines, and official bodies were set up to protect lands designated as of special agricultural (RAN) or ecological (REN) value.
The second wave of development that gathered momentum in the late 1990's was thus more measured and controlled than the first. As a result, when the downturn hit at the end of 2008, Portugal's stock of unsold homes measured in terms of years of supply was far lower than Spain's.  Its bank of undeveloped urban land is also relatively modest.
This limited supply will help to fuel the upcoming recovery.
9.   Underlying location benefits
For many, the excellent quality of life is reason in itself to relocate to the Algarve. Benefits include the sunny yet moderate weather, easy getting around, friendly and welcoming locals, wide use of English, established expat community, rich sporting and leisure opportunities, local gastronomy, reasonable cost of living, stable political and economic environment, and a good health service.
10.  Portugal's economy recovering
The most severe phase of the property market downturn was triggered by the euro crisis of 2011. It was then that foreign investors lost confidence and banks stopped lending.
The austerity medicine dictated by the Troika and swallowed whole by the Portuguese government included structural reform of the labour market, reduced government expenditure and higher taxation. Domestic consumption has fallen but exports have grown and banks have juggled bad assets to improve their balance sheets. GDP is now growing again, the risk of bond default or euro exit has receded and Portugal has returned to the international credit markets.
Portugal is now an improving environment for inbound investment, particularly as emerging markets have lost their lustre and Russia's annexation of Crimea has emphasised the relative stability of Western Europe.
March 2014