The long-anticipated toll charging system for the Algarve's A22 motorway came into effect on 8th December 2011. The system covers the length of the A22, but some toll-free, short journeys can be made, particularly between adjacent exits. For example, it is possible to cross the bridge from Spain using the A22 and transfer to the N125, or to travel from Bensafrim to Lagos, without incurring a charge.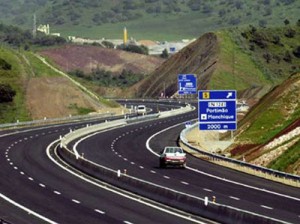 The normal toll rate for class 1 small cars is 9c/km. The class 1 journey from Lagos to the airport currently costs €6.60 including IVA. Toll rates for 9-seaters, SUVs and other larger vehicles are higher. There are no toll booths as such. The system captures number plate information using cameras mounted on overhead gantries, and automatically creates or updates an account for each vehicle identified.
Originally scheduled to be introduced in April, the A22 tolls have been strongly resisted by local residents and businesses. This is despite the exemptions and discounts being offered temporarily to people living or working in adjacent council areas. Visitors to the Algarve, particularly the Spanish, have also opposed the measure, going so far as joining with the locals in demonstrations involving hundreds of vehicles.
Now that the system is in use, the protests have not abated. The main anti-toll pressure group has filed an injunction in the Loulé court, more demonstrations are being organised and overhead cameras have even been destroyed by gunfire.
Other teething troubles include a shortage of the transponder devices used to control payments. In principle, these should be available from various sources, including local post offices, Via Verde shops, MSCar and ACP (Automobile Club of Portugal). Via Verde has temporary shops in Portimão, Faro and Tavira.
However, payment can always be made after using the motorway, for example in a post office, so long as payment is made no sooner than 48 hours and no longer than 5 working days after use. It is also possible to check pending charges by entering the car registration number on the post office website
Local residents with Portuguese-registered vehicles can obtain vehicle-specific transponder devices that enable them to take advantage of rebates, and to use the Via Verde system on other motorways throughout Portugal. Charges can be pre-paid or paid by direct debit. The rebates include 10 free trips per month and a discount of 15% thereafter, but these concessions are likely to be withdrawn by mid-2012.
It is also possible for both Portuguese and foreign registered vehicle drivers to obtain a temporary transponder for the A22 and similar unattended motorways, by making a deposit payment of €27.50 and a minimum class 1 pre-paid charge of €10. The transponder rental is €6 for the first week, and €2.50 for each subsequent week.
Foreign vehicle drivers can pre-pay over the internet, either to create a pre-payment account (minimum of €10) valid for 5 working days, or to purchase a fixed price 3-day "pass" (€20 plus €2.50 plus IVA in charges), or a fixed itinerary "pass".
For the time being, car rental companies expect drivers to arrange toll payments themselves, although most are planning to install transponders and to include toll costs in the final car rental charge.
Failure to pay toll fees is a misdemeanour subject to a fine for all users, both domestic and foreign. The fine is 10 times the rate of toll, with a minimum of 25 euros and a maximum of 125 euros.
A summary of the payment options and charges for both Portuguese and foreign-registered vehicles is available in English here or in Portuguese via this link